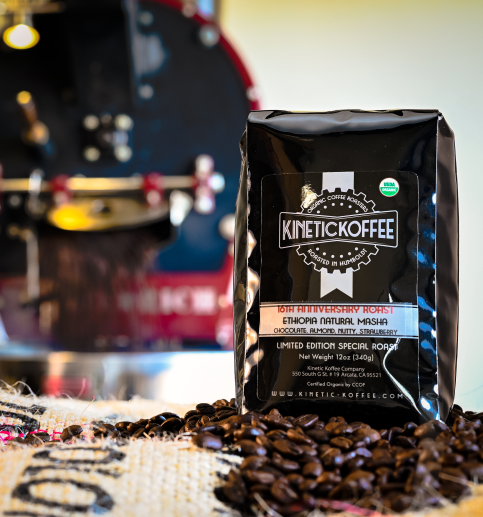 A lot has happened in the past 16 years, but one constant has been our passion to bring you the very best organic coffees in the world. Our Anniversary Roast carries on this tradition.
Masha Natural Organic and Rainforest Alliance–certified coffee comes from Masha Woreda Yeppo Village, a coffee farm owned by world-renown running champion Haile Gebrselassie. The land was a gift from the Ethiopian government, in thanks for his achievements representing Ethiopia. Among his accomplishments, Haile is a two-time Olympic champion, a four-time World Champion and the holder of 27 world records, for distances from 1,500 meters to the marathon.
Haile transformed the 1,500-hectares into a stunning coffee farm with 200 hectares of dedicated conservation forest land, through which the Gahamay and Bosoko rivers run.
To facilitate the production of traceable microlots, the farm is separated into 46 identifiable plots, each with specific planted varieties and processing methods. And in addition to following socially and environmentally friendly practices and meeting the requirements for Organic and Rainforest Alliance certification, Yeppo Village offers local coffee farmers training opportunities in agronomy best practices and methods for increasing cup quality.
Haile says that as an Olympian he promotes the Olympic values of excellence, friendship and respect (including for "the whole of the natural environment"), and he extends his personal life philosophy to the coffee business: "You need three things to win," he says. "Discipline, hard work and commitment. No one will make it without those three."
For a time, Haile was president of the Ethiopian Athletics Federation, and he founded the Great Ethiopian Run—a 10-kilometer race around Addis Ababa. He also organizes the Girls Run race in Addis each year, encouraging and empowering young women through sports.
This incredible coffee has a dark chocolate aroma, with flavors of strawberry, blueberry, honey and mango with a smooth creamy body and juicy acidity.
As with all of our Limited Edition coffees, there are limited quantities available and when we sell out, that's it. So get yours ordered today. Available in 12 ounce and 5 pound bags and either whole bean or ground to your preference.